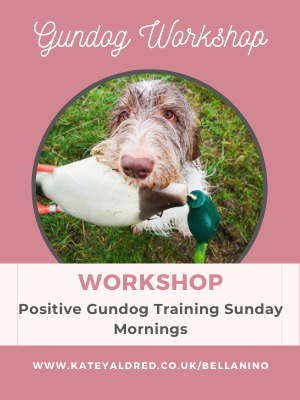 11.20am Bellanino Gundog Training Workshop
This is a second workshop that will only go ahead if there are enough subscribers. It addresses gundog training concepts and exercises needed for gundog work. It is also suitable for pet owners that just want to get the best out of their dogs and is open to non-gundog breeds.
11.30am: beginners/novice dogs
Learning gundog training can help to have a better behaved dog when out on walks especially if you have a hunting dog.
New students: this will teach you about gundog training through the power of positive reinforcement and clicker (marker) training. You will learn how to obtain base behaviours and shape these behaviours.
Previous Students: you will build on previous exercises to strengthen and enhance your training. Content will be adjusted for students that have previously attended.
Planned topics include (but will vary on each monthly workshop):
Targeting
Focusing control
Whistle work
Distance work
Retrieve elements
General control
This workshop will be repeated approximately on the last Sunday of the month where possible.
Strictly limited to 6-dogs with only one 1-handler per dog with sessions conducted outside following social distancing rules. Priority booking will be given to those previously attended or those on the waiting list.
If you have any questions please feel free to get in touch, you can find a map of the venue on the 'contact' page. This is at a fenced field in Ellingham.
You will be sent a list of equipment needed once you book.
TO BOOK: look on the right-hand menu and either click 'more-info' or scroll down to the BOOK button. If the workshop is FULL you will not be able to book a place.
BOOKING OPEN!
Methods
This is strictly about positive gundog training using marker and clicker training.
Generally, these sessions are monthly on the last Sunday apart from a few exceptions. Check the main event page for upcoming dates