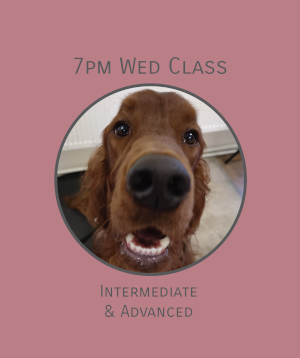 7pm Wed Intermediate & Advanced Training Class
Term FOUR 2021 FULL: Starting 19th May at 7pm then the following 5-Wednesdays at the same time.
Other term dates are listed below, to go onto the waiting list for any term please send an email.
LOCATION: Saint Olaves Village Hall. This class will be inside ONLY IF THE NEXT PHASE OF RESTRICTIONS ARE LIFTED ON 17TH MAY. Otherwise, this course will be outside due to COVID regulations.
6-week training via zoom for dogs with a minimum of Bronze Kennel Club Good Citizen scheme in place, or an equivalent award.
CLICK HERE for more information
COVID RESTRICTIONS –
Max of 5 students per group, only ONE handler per dog.
Social distancing apply at all times.
Only 1-person per dog no couples, no children.
FACE MASKS MUST BE WORN, NO MASK, NO ENTRY
Additional Term Dates:
From term four it is hoped training will return to St.Olaves village hall
Terms Six and Seven include some dates which are on a TUESDAY. Classes resume to Wednesdays from Term Eight.
Term Four: 19th May
Term Five: 30th June
Term Six: WED: 11th Aug, 18th Aug (a week off) then class changes to Tuesday: 31st Aug, 7th, 14, 21st Sept
Term Seven: TUE: 28th Sept
Term Eight: Wed 10th Nov