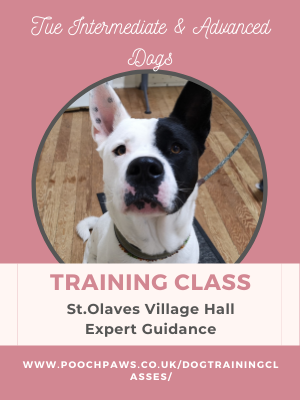 7.15pm Tue Intermediate & Advanced Training Class
LOCATION: Saint Olaves Village Hall. This class will be inside as long as there are no COVID restrictions
6-week training class in-person for dogs with a minimum of Bronze Kennel Club Good Citizen scheme in place, or an equivalent award. Spaces strictly limited to 5-puppies / dogs with ONLY 1-person per puppy due to COVID restrictions.
Class general information CLICK HERE
Costs, method, and more CLICK HERE
NAMES BEING TAKEN FOR WAITING LIST 
Free homework sheets
6-weeks access to the training Academy
Add your name to the waiting list HERE
COVID RESTRICTIONS –
Max of 5 students per group, only ONE handler per dog.
Social distancing apply at all times.
Only 1-person per dog no couples, no children.
FACE MASKS MUST BE WORN, NO MASK, NO ENTRY
Additional Term Dates – take a look at the event page for more terms